Biography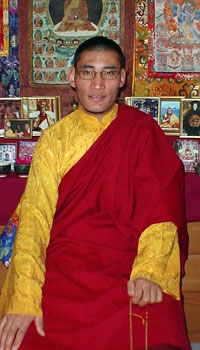 The Fifth Amnyi Trulchung Rinpoche was born in 1970, amid many auspicious signs, and was soon recognised as the reincarnation of the Fourth Amnyi Trulchung Rinpoche of Ju Mohor Monastery.
Even as a young boy, he was unlike his peers. He had a particularly loving and compassionate nature that was noted and appreciated by all who met him. Amnyi Trulchung Rinpoche showed exceptional intelligence in all his studies and attained perfect understanding in all he was taught.
With the guidance of his spiritual teachers, he undertook all the traditional training of his lineage. This included accumulating the 500,000 ngondro practices, and training in the Rigdzin lineage tradition including the essential Dzogchen instructions of kadak trekchö and lhundrop tögal during which time he gained extraordinary insights and experiences from his meditation practice. This training culminated in a three year retreat at Yachen Orgyen Samten Choeling, under the regular guidance of HH Lama Achuk Rinpoche.
At the age of 18 years he was formally enthroned as the the Fifth Amnyi Trulchung Rinpoche and abbot of Ju Monastery.
His education continued at the great university centre of Larang Gar at Serthar. He studied the different schools of Buddhist philosophy and the sutra and tantra under a number of teachers, particularly the founder of Larang Gar, HH Khenchen Jigme Phuntsok Rinpoche. He graduated from Larang Gar as a Khenpo at the age of 25.
Later, Rinpoche returned to Ju Mohor Monastery to give teachings, to the great benefit of the monastic community there.
During this time, Rinpoche also received many empowerments, oral transmissions and pith instructions of the secret Nyingmapa kama and terma traditions from a number of scholars and practitioners including HH Drupwang Pema Norbu, Khenpo Pema Tsewang, Venerable Gyangkhang Tulku, Venerable Khenpo Choekyap, Venerable Trulshig Rinpoche and Venerable Taklung Tsetrul Rinpoche and several teachings on Secret Mantrayana from Venerable Ngorlu Ding Khenchen.
Rinpoche is now heading the groundbreaking Vista Project, based in Sershul, the town closest to Ju Mohor Monastery. The aim of the Vista Project is to revitalise the economic and cultural lives of the Tibetan people. Although the Chinese economy is growing rapidly, the nomadic peoples of Eastern Tibet are often unable to take advantage of the opportunities available. The Vista Project aims to provide basic education and vocational training to enable local nomads to survive and prosper in the modern economic climate and also to preserve and cultivate the ancient culture of Tibet.