Garab Dorje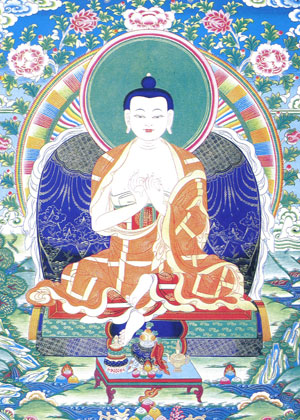 The first human lineage-holder of the Dzogchen teaching was the Nirmanakaya Garab Dorje, an emanation of the Buddha Vajrasattva. He was born a son of a royal family in Oddiyana. He showed many special signs that he was not an ordinary child.
At age 7 he entered into a philosophical debate with 500 scholars and defeated all of them, without ever having studied himself. Afterwards he meditated on a mountaintop until his 32nd birthday. He received empowerments, instructions and entrustment of the Dzogchen tantras in an instant from Vajrasattva and attained the stage of 'no more learning.
With the help of dakinis he spent three years transcribing the teachings he had received. He meditated and taught for the rest of his life in Sitavana, a famous charnel ground northeast of Bodhgaya. When he died at the source of the Danatika river his body dissolved into immaculate space amid masses of rainbow light.