Rigdzin Jigme Lingpa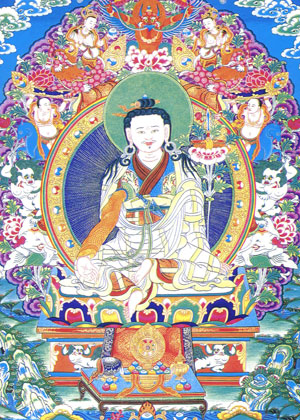 As a child Jigme Lingpa remembered previous incarnations, his mind was detached from wordly concerns and he was extraordinarily compassionate, intelligent and courageous. At age 6 he entered Palri Monastery, but lived the life of a poor novice with nothing to facilitate learning. His intense zeal for the Dharma, devotion to Guru Rinpoche, and rich inner life filled sustained him and he felt no need to have a master or study intellectual subjects in detail as other students were doing. He learned merely by overhearing the classes of other students or glancing at the texts.
In his twenty-eighth year he started a strict retreat concentrating his meditation on the development and perfection stages. He experienced many visions of Guru Rinpoche, Yeshe Tsogyal, Manjushrimitra and others, each further awakening his inner wisdom. One evening with an unbearable devotion to Guru Rinpoche in his heart, he experienced flying through the sky to the circumnambulation path of the Bodhnath stupa. In the courtyard of the stupa a dakini entrusted him with a wooden casket containing yellow scrolls and crystal beads. Encouraged by another dakini he swallowed these and instantly experienced the full awakening in his mind of all the words and meaning of the Longchen Nyingthik cycle.
Three years later during a retreat at the Chimpu caves the highest realisation of Dzogchen awakened in him through three visionary transmissions of the Longchen Nyingthink teachings from Longchen Rabjam. He kept them secret for seven years, until a clairvoyant disciple beseeched Jigme Lingpa to transmit them. Swiftly the teachings reached every corner of the Nyingma world and became the heart core of meditation instructions for many realised meditators to this day.
Jigme Lingpa spent the remainder of his life in a hermitage at Tsering Jong in southern Tibet attending to a stream of disciples who came to receive the profound nectarlike teachings. His life was full of miracles but he kept his mystical power hidden and his rich life simple. Although he didn't train in traditional disciplines, all his expressions turned into teachings and all his activities were in the service of others.