Longchen Rabjam
(Longchenpa)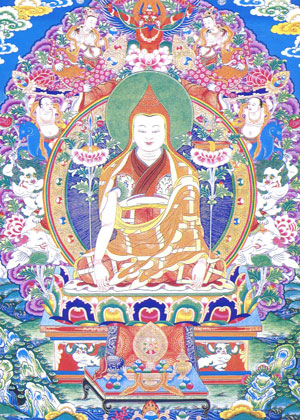 Longchen Rabjam lived from 1308-1363 and is revered as one of the greatest scholars in the Nyingma tradition. He carried the title Kunkhyen - All-Knowing. As a child he studied the Dharma in great depth, and entered the famous Shedra Sangpu at age 19, but the behaviour of some of the scholars disgusted him, and he eventually chose to practise in the solitude of the mountains.
He wrote more than 250 treatises on a wide variety of topics, but is best known for his works on Dzogchen, especially the extensive analysis of the Dzogchen tantras known as the Seven Treasures, the Chöying Dzöd. He gathered together the heart-essence teachings of Guru Rinpoche, Vimalamitra and Yeshe Tsogyal.
Although he was one of the most realized sages of Tibet, with crowds of disciples following him wherever he went, he remained a simple hermit with minimal belongings, often dwelling in caves. He saw solitude in nature as a source of spiritual awakening.
For him, nature's peaceful and clear environment inspired peace and clarity, enabling practitioners to unite with ultimate joy, to attain the oneness of universal openness and luminous clarity. He avoided building monasteries and lived in solitude, advising his followers to do the same.