Khenchen Rigsal Dorje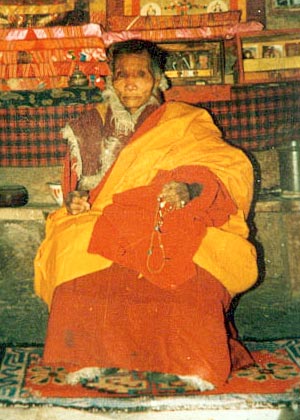 Khenchen Rigsal Dorje was one of the great Dzogchen masters of Eastern Tibet in recent times.
His root teacher was Khenpo Thubga Yishyin Norbu, who was also the root teacher of HH Khenchen Jigme Phuntsok Rinpoche. After spending several years with Khenpo Thubga Yishyin Norbu, he returned to Ju Mohor.
There he remained, practicing meditation and teaching for the rest of his life. He was renowned for his teaching on Gyu Sangwa Nyingpo (Guhyagarbha Tantra) - the inner tantra category of the Mahayoga cycle of the Nyingma tradition.
Khenchen Rigsal Dorje died in 1995. His death was marked by a series of remarkable events. The culmination of which was after his cremation, when two statues were all that remained in his ashes, one of Vajrakilaya and the other of Vajradhara. These are now situated in Khenchen Rigsal Dorje's old room at Ju Mohor.