Khenpo Ngawang Palzang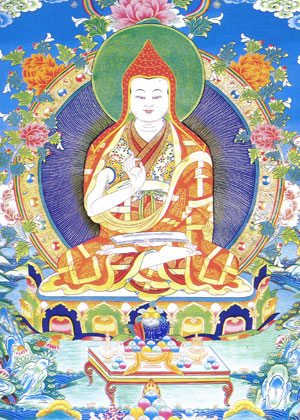 Ngagi Wangpo was a most unusual child. Even as a baby he displayed miraculous powers and had visions of deities. One day his mother took him to Nyoshul Lungtok to receive blessings. Although the master was in retreat he instructed his attendant to bring any visitors who asked for blessings on that particular day. When mother and son arrived he bestowed the name of Ngawang Palzang upon the boy, gave him a cup of consecrated raisins and a red protection cord for long life.
At age 10 Ngawang Palzang became the disciple of Nyoshul Lungtok and began the preliminary Ngondro practices. When he was about 13 years old, Nyoshul Lungtok gave him a Thangka painting of Longchenpa, and a hair of Jigme Lingpa and instructed him to pray to Longchenpa. One day during his mandala practice Ngawang Palzang had a vision of Longchenpa holding a crystal in the shape of a heart and Longchenpa introduced him to the nature of mind.
Although he recognized the fundamental nature of mind, Ngawang Palzang still had doubts and needed clarification. With the support of his teacher he continued through all the practices step by step, exploring and clarifying the deep meaning of the teachings. Khenpo Ngawang Palzang became the greatest disciple of Nyoshul Lungtok.